boxtorow.com
DWCommunications, LLC, whose subsidiaries include the nationally syndicated sports talk radio program FROM THE PRESS BOX TO PRESS ROW w/ Donal Ware, also known as BOXTOROW, announces its partnership with Grind City Media, a subsidiary of the NBA's Memphis Grizzlies. As part of the partnership, BOXTOROW and Grind City Media will collaborate on a number of projects including a weekly podcast called the Wallace and Ware HBCU Football Podcast, hosted by Mike Wallace, senior editor of Grind City Media and Donal Ware, host of BOXTOROW.
"I love the way Mike, Grind City Media and the Memphis Grizzlies are thinking outside of the box," said Ware, who founded BOXTOROW in 2005. "Furthermore, I am excited about this partnership and to work with Mike in a different capacity. He has been a guest on BOXTOROW over the years.  I have known Mike for almost 20 years and his work ethic is unbelievable. I look forward to all of the possibilities this partnership has to offer.
Wallace will also appear on a segment of FROM THE PRESS BOX TO PRESS ROW each week to talk about HBCU football, college football as a whole, NBA and about some of the hot topics in and outside of sports.
"This is the perfect opportunity to enter into a unique partnership that will grow both Grind City Media and BOXTOROW among our national sports and entertainment fan base," Wallace said. "Donal and I have been at this for a long time and bring decades of experience and insight to deliver the best stories, commentary and analysis of issues you care about most on and off the field of play."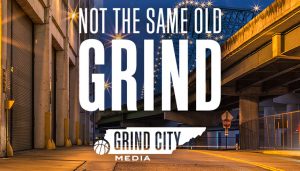 A graduate of Grambling State University, Wallace is entering his second season with Grind City Media, where he provides columns, commentary and news reporting, and also serves as a broadcast analyst on the Grizzlies LIVE! pregame and postgame shows. Prior to joining the Grizzlies, Wallace spent six years as an NBA reporter with ESPN and contributed to ESPN.com's 'Heat Index,' a groundbreaking digital media site that chronicled LeBron James' four seasons with the Miami Heat. He was also a regular co-host on ESPN Radio's national weekend show lineup and a daily co-host on ESPN's radio affiliate in Miami.
An award-winning newspaper journalist recognized the past two decades by APSE, NABJ and the NAACP, Wallace's reporting on sports, politics, crime and education has appeared in the Miami Herald, Washington Post, San Antonio Express-News, Birmingham News, Jackson (MS) Clarion-Ledger, Tallahassee Democrat and The (Shreveport) Times. Wallace is also active in community programs, including the Police Athletic League, faith-based prison ministry outreach and Duffels4Kids to benefit foster/adoptive children.
Ware has a relentless passion for HBCU sports and founded FROM THE PRESS BOX TO PRESS ROW in 2005. The radio program started with five stations and now airs on over 40 affiliates in markets such as Washington, DC, Tampa, Baltimore, Pittsburgh, Austin, TX, Raleigh, Nashville, New Orleans and Memphis. The program also airs on SiriusXM Channel 142.
In 2011, Ware started a new program called BOXTOROW w/Donal Ware which airs on H.U.R. Voices SiriusXM Channel 141. The program not only talks sports but also talks with some of the top entertainers and sports figures in the business. Snoop Dogg, Aretha Franklin, Ludacris, T.I., Ice Cube and Joss Stone are just a few of the guests that have appeared on the program.
Ware, a graduate of Morgan State University, is also the play-by-play voice of North Carolina A&T football, has appeared on ESPN's Outside The Lines, and is known as the Voice of Black College Football as his voice was used for the video game BCFx for Xbox 360.
The Wallace and Ware HBCU Football Podcast will air each Tuesday on Grind City Media's Website www.grindcitymedia.com and can be found on iTunes and SoundCloud.
FROM THE PRESS BOX TO PRESS ROW can be heard on radio stations across the country and Saturdays 9 a.m. ET/8 a.m. CT/6 a.m. PT on SiriusXM Channel 142. Affiliates can be found at www.boxtorow.com/affiliate-stations